The Knee Bone Is Connected to The… Well a lot!!!
Question: Did you know that stiffness in your upper to mid back could be the cause of your knee pain?
Truth: Pain is very misleading, but if we can learn to understand it's true origin, then we can also learn how to treat it to live a more productive life.
The Story: A middle-aged man that also happens to be a tri-athlete came to me with complaints of knee pain while cycling and running. If you have every watched professional cycling, the typical posture is one that includes being hunched over with the arms tight to the body, very focused on the road ahead.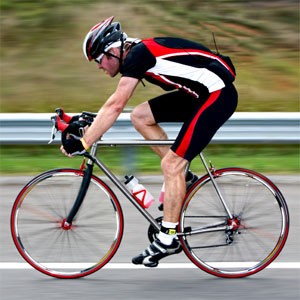 The Problem: If there were even a minor restriction in the mid back (causing a rotational shift to one side), that restriction could cause a compensatory rotation in the hip or the knee, especially when clipped in.
For example, if you are sitting in a little bit of rotation to the right, due to perhaps a fall onto the rib cage or maybe even because you sit to the right while working, in order for you to keep your gaze directed forward while cycling, you must rotate somewhere else to achieve this. And that could happen anywhere in the kinetic chain, even the knee.