Did you know that if you have problems kneeling, the cause could potentially be in your hip? 
TRUTH:
The knee is often the victim in most cases. If you don't look above and below the knee, the source of the problem could easily be missed. Whether you can't kneel to see the line for a putt or play on the floor with your child or even your dog or cat, looking elsewhere for the source of the problem is key!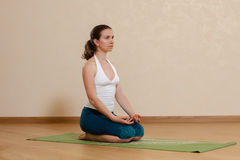 As you can see from the above photo as well as the cover photo for this post, kneeling requires the synergistic action from both your hips and feet and the rest of the kinetic chain.
A thirty-five-year-old female was referred to me with complaints of left knee pain "behind my knee," as she put it, or in the crevasse that is between the back of the thigh and the calf. In my language, we call it the popliteal fossa.
She felt it most with a deep knee bend while playing with her child on the floor.   In this position your thigh muscles, or quadriceps are on stretch and your hips are in almost a fully flexed position.
One of the things I honed from my time on Wall Street was how to problem solve. So I looked at how she sat on the floor to play with her daughter. She sat and knelt with her RIGHT hip forward , not her left. She also had left knee pain during this posture.