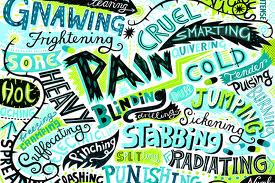 The healing power of touch is well publicized but how about the healing power of speech?  When patients come to me, they hurt, they are in PAIN.  As physical therapists, we employ a great deal of clinical reasoning to come up with a diagnosis as to where their source of pain lies.   But patients always ask me,  "but why do I have pain?"
The Patient's Story
I often began my evaluations by asking my patients to tell me their story.  In that way, this opens the door for them to say anything they feel is relevant to their being with you. Giving someone an opportunity to share their experience, voice their problem or just open their hearts to whatever concerns them or what brought them to see you is extremely healing.  It could began with "I know that stress is a huge part of my problem" or "I have had this problem forever". Right there you have two things you are dealing with, cortisol, the stress producing hormone and chronicity, which are toxic to the body and the person that is dealing with it.
When you are sitting in a treatment room with a patient and their narrative or story is unfolding-the healing process has begun.  You are listening to THEM.  It shows them they are not alone in their journey. The power of someone being able to tell you their story should not be underestimated.  It calms their nervous system down. Not many people in today's health care system get to tell their story to a medical professional for one hour.  Just think about it.  How therapeutic does that make YOU feel. It makes me feel good that someone actually took the time to listen to me for one hour!  I actually had a patient who told me that after she saw me and I told her it was normal to feel what she was feeling, her pain went away.  Ah, the power of speech.
Being heard is powerful medicine.
Some people are tormented by their pain and  are afraid to do things because they think it will hurt or they are doing damage to their body.  If someones sustains an acute ankle sprain, and their ankle is hot and swollen yes, they should take care.   But, if someone had the ankle sprain 6 months ago, and the ankle still hurts, another strategy needs to be adopted.
So, how do you explain pain to the patient?  I often start with the phantom limb pain example or the example of the surfer who gets bit by a shark who feels no pain until later on when he is safe on shore.  Amputees have often complained of pain in their phantom limb although there is no limb there, really. We don't need a body part or even pain receptors to feel pain.  We need only a body image, produced by our brain maps.
Why is that? Simply put, the brain is plastic and there are changes in the brain that are associated with their pain state.  Our brains are changing all the time.  Blind people who use braille have large representations of their fingers and hands in their brain.  So if you sustain an injury to a certain body part, the representation in your brain will become amplified for a period,  and certainly more sensitive, this is normal.  Patients are actually relieved to hear this.   When this amplification lasts longer than it should, then we need to employ certain interventions to tone that down.  Using examples, such as alarm bells going off and increased threat levels usually works.
Have you ever seen someone walking down the street with a very stooped like posture? They probably have no pain at all.  Another good explain pain example.    Their brain does not perceive this as a threat. Your brain still perceives something as threatening, resulting in an increased pain threshold.  We need to deconstruct that, or more importantly, decrease the sensitivity in your brain.
De-threatening the patient's body schema 
When stress is involved in the patient's pain presentation, using cortisol as the example that inhibits the "happy healing hormones" works very well.  Simply doing some breathing meditation de-threatens the patient's nervous system and lowers the patient's pain state.
A  good physical therapist can talk the sensitivity out of the patient's pain state and the initial assessment itself, when done well, can alter the patient's pain level.
Education as therapy is largely underestimated.  Explaining pain to the patient and education about pain physiology (Butler, Moseley, 2003) has been shown to have positive effects by increasing pain thresholds during physical tasks. (Moseley, Hodges et al 2004).
Many patients who have persistent pain have belief systems that are lethal to their healing. Thinking that it's all their fault and that that nothing will work out needs to get re-examined.  That's another blog post for sure!!
Erica Meloe, PT, OCS, COMT, MBA, MA
Like what you've read? Click the button below to discover more.